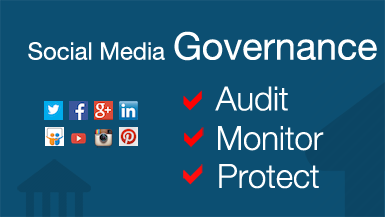 Every New Year you naturally begin setting goals and making plans to achieve new heights in your career and personal life. You know that the best way to reach (and exceed) goals is to make a plan, follow it, and adjust when necessary. This is true whether you want to get a handle on those holiday pounds or get a handle on your brand presence in social media.
Just like gaining weight, if your corporate brands and identities are not managed, they will proliferate on the web until it becomes a major ordeal to get them back under control.
Social Media Governance is the plan to get (and keep) your brand and corporate points of presence under control. Like any good maintenance program, there are many factors that result in success. This first post will discuss the attributes and importance of a strong Social Media Governance Plan and subsequent posts will highlight the processes to achieve success. The beginning of 2014 is an excellent time to ensure your social POPs (points of presence) are well-managed and protected! Once this groundwork is completed, you will be able to successfully scale and manage your social enterprise.
There are two main aspects of governance: social content governance and social presence governance. The past decade has focused primarily on the challenges of content and relationships (created via exchanges in a content stream), so governance has focused on these areas as well. The primary governance tool to date has been a corporation's social media policy and covers how employees may or may not interact with people socially, how they should present certain corporate values if speaking on behalf of the company, and how they can not disclose confidential information (among other items). Your policy for content is critical, and if your policy needs an update, check out Chris Boudreuax's list on his Social Media Governance site and begin reviewing policies that may be pertinent to your industry. Also be sure to follow National Labor Relations Board's regulations for what you can and cannot require of employees. Finally, ensure your legal counsel reviews the policy.
The more socially advanced companies have also included the first step of presence governance and that is to clarify that corporate POPs (points of presence) belong to the corporation. They may also state that an employee may use their own social networks, but may require certain language in the profile information such as "Tweets are my own". This is the beginning of social presence governance. This post and subsequent posts in this series will focus on the presence aspects of your Social Media Governance Plan. After reviewing these posts, you will have new ideas on what presence elements should be added to your social media policy ( in addition to content governance).
What is a Social Presence, a Corporate Presence and a Brand Presence?
A point of presence (POP) whether it is titled social, corporate, or brand all have the basics in common: The URL, identifying name, and the profile information submitted by the account holder (descriptions and information). This is the first information a customer sees about you, the corporation, or the campaign and is the only place you have true control over maintaining brand and regulatory compliance standards. A POP can be created on any social network within a matter of minutes, by anyone, putting your company at risk.
Social Media Governance helps you strengthen your social footprint and mitigate risks to your company. Risk to brand and reputation has been ranked as the chief corporate risk concerns by AON in their 2013 Global Risk Management Survey and Deloitte's most recent research Exploring Strategic Risk. Both studies site social media as the reason brand risk has been elevated in the C-Suite. But risk to reputation is only one risk that must be managed; risk to IP (intellectual property) and compliance (for regulated industries) also top the list for the C-suite.
It is best to discuss the Social Media Governance plan with the stakeholders across the company to ensure all risk aspects have been considered. This may include the CMO, CIO, General Counsel, Chief Risk Officer, Compliance Officer, Customer Support Officer, and others that have key roles in managing social media and in managing risk for the company.
A Social Media Governance plan also sets the framework for you to see an accurate representation of your Social Footprint and ensure you are gathering the necessary and pertinent information for big data analysis. After all, you can't measure what you don't know! The importance of this is highlighted in Altimeter's Social Data Intelligence: Integrating Social and Enterprise Data for Competitive Advantage. The plan is also a critical tool to manage scaling social media across your company and deeper into your employee pool. For examples of Social Business maturity, read The State of Social Business Maturity: The Maturing of Social Media into Social Business also by Altimeter Group and Chip Roberson's post Social Media for the Retail Industry — Going Local and Liking It!
A good plan includes a continual brand presence management process across the web and on social channels. There are three key processes to ensure sound social presence governance so you know you have an accurate and compliant social footprint:
Audit: The process of reviewing what you know, and scouring the web to discover new places where your brands, identities, and IP are represented.
Monitor: The process of watching what you have decided to inventory. Watch for compliance to social policies, brand standards, and the health of your point of presence (at Brandle, we call this last one the POP Pulse).
Protect: The process of protecting your company from risks by reviewing your inventory for compliance regulatory bodies, profile changes for security, and clarification of ownership. It is also the continual discovery plan to search the web for places that are infringing on your IP.
The plan should first focus on the corporate points of presence (POPs) and then on the POPs that express a relationship with your brand or company. To preserve brand equity, you need to ensure consistency on the corporate-owned POPs and make best efforts to encourage those associated with your brand (employees, partners, ambassadors, etc.) to represent the brand correctly. You also need to ensure that those infringing on your brand or IP are handled appropriately.
This is the time to be diligent about protecting your IP, adhering to regulatory compliance, and being consistent with brand standards – not the time to acquiesce to the craziness of the web! Know your trademarks, regulatory requirements, and brand standards intimately and prepare for your audit!
In the next post, we will review the steps to an effective presence audit. The work you do now reviewing your standards, trademarks and regulatory guidelines will be put to good use during the audit. We built Brandle to make the audit process easier, but it can certainly be managed manually without Brandle. It is the most labor intensive process of the Social Media Governance plan but it is critical to getting an accurate handle on your brand and on your corporate social footprint. Prepare to audit, monitor and protect your social enterprise!