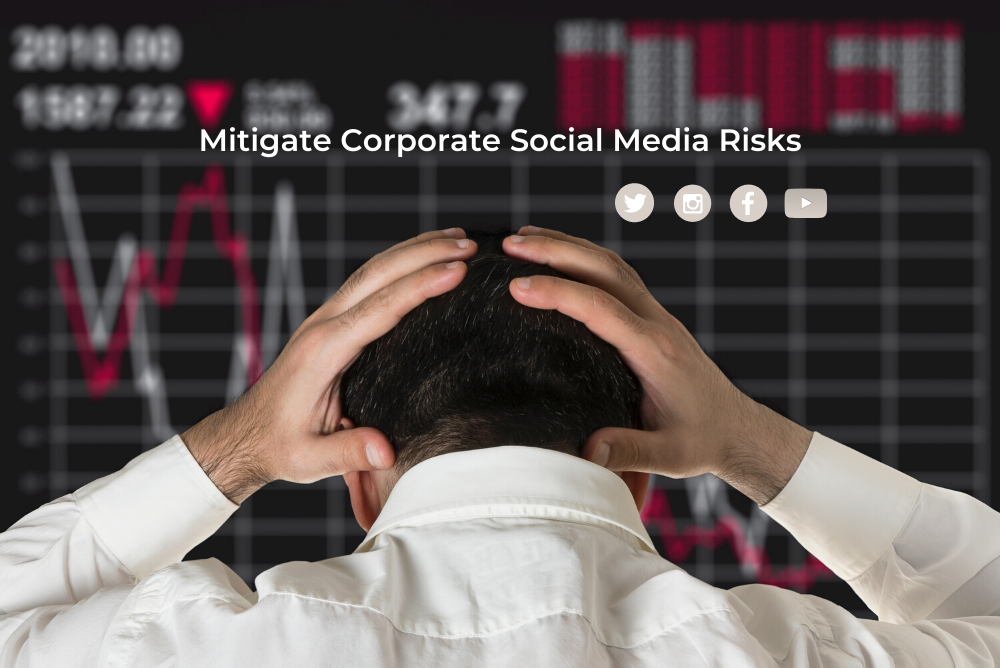 As I sit down to write this, I can't even think of a working title. What I'm about to explore is not a fun topic but it's a conversation every executive knows is coming. The Coronavirus/Covid-19 pandemic has triggered a series of events, which has destabilized markets and is affecting businesses, large and small, globally. The conclusion to draw is that layoffs are coming and crisis communication is going to be in play. Mitigating social media risks during company layoffs may not be your first crisis concern, but you will want a strategy to protect your global digital footprint and your brands.
Layoffs are terrible for everyone involved. The decisions are painful for those making them and the impact on those being "let go" can be devastating. Not only are employees and contractors likely to be "separated" from the company but relationships with agencies and other third parties are likely to be terminated as well. The thought of what is to come does not paint a rosy picture as we know we are just starting to feel the impacts of the Coronavirus.
So, why am I, the CEO of a social media governance company, writing about this?
Process to Mitigate Social Media Risks During Layoffs
A crisis situation like this is when and where good social media governance practices can greatly reduce risk and save your enterprise significant time and, yes, money. Generally, it comes down to Who, Which, What, and Where:
Who is being laid off?
Which agency relationships are being terminated?
What social media properties and ad accounts do they manage or can they access?
Where do these people, properties and relationships reside in our organization?
It doesn't stop there as these all lead to secondary questions, which must be answered:
What access to social media properties or ad accounts needs to be removed?
What apps need to be disconnected from our social media properties and ad accounts?
What social media properties need their email addresses changed?
What social media properties need their passwords changed?
What social media properties need a new phone number assigned?
Do any social media properties or ad accounts need to be shut down?
Who works for any of the agencies being terminated and has their access has been properly removed?
Who is going to assume each role for the persons or agencies being terminated?
Is there budget assigned to any ad accounts that needs to be recovered or reallocated?
How can we best consolidate resources to effectively weather the storm?
It's not a question of if you'll have to ask and answer these questions, I can pretty much guarantee you will have to answer them sooner or later.
The problem is that too many companies don't even have a full accounting of every social media point-of-presence or ad account utilized in their business. Some try to track this information via spreadsheets but they quickly become "spreadsheets from hell" that are overwhelming to maintain and too error prone to trust.
On top of this, we know that not all employees take being laid off too well. Generally, most employees are professional and they leave the company on good terms but we all have seen the scenarios where that is not the case. You are already embarking on an effort to do the same work with less people, do you want to risk having to deal with the consequences of an ungoverned property?
Protect Your Corporate Brand Reputation During Crisis
Here are some thoughts to consider while weighing the potential risks.
What if malicious content was published that hurt your brand?
What if you were locked out of a social media property because you no longer had access to the email address and/or phone number associated with that account?
What if someone rebranded your social media property?
What if your social media property was deleted and/or control transferred to another entity?
What if someone used an ad account to promote malicious content or just cause financial harm?
The likelihood of any of those happening will vary from platform to platform but we've seen or have heard of each happening to one degree or another. Generally, the cost of handling these issues on the front end (e.g. through governance) is cheaper and less painful (and distracting) than responding to them on the back end (e.g. through mitigation and/or recovery).
This is why now is the time to undertake a social presence audit and start answering these questions:
What social media properties and ad accounts do we know we have?
What social media properties do we not know about? (Trust me, there are many more than you might think.)
Where do these properties and accounts reside in our organization (e.g. by brand, division, region, country, business unit, etc).
Who is associated with each property or ad account and where does each person reside in our organization and what is their role?
Which agencies are associated with each property or ad account and where does ownership of that relationship reside in our organization?
Which social media properties are functioning well and meeting corporate standards and goals (and which are not)?
Which social media properties and ad accounts can be consolidated or shut down?
This is why we created the Brandle Presence Manager – to give every enterprise a single tool to answer these questions and more. Social media is a powerful tool to engage your customer community but it also an unwieldy multi-headed beast to manage and every social media point-of-presence and social media ad account is also a vector of risk.
You can either practice good governance and stay ahead of the curve or you play catchup when one of the beast's heads rises up to bite you.
If you'd like us to walk you through the process of good governance, drop us a note.