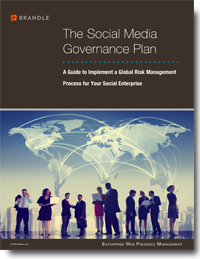 We are pleased to announce the release of our new e-book — The Social Media Governance Plan. A Guide to Implement a Global Risk Management Process for Your Social Enterprise.
This e-book was written by Janet Church of Brandle, and highlights the steps that are essential for corporate-wide acceptance of a social media governance plan and process.
For over four years, the Brandle Team has been focused on how we can make social media governance and web presence management as easy as possible for companies with a larger portfolio of brands and social media ecosystems. When you spend that much time thinking about (and working with customers on) governance, risk management, and the global structure of an enterprise, you learn a lot! And now we are sharing the knowledge.
Here is what you will learn in this e-book:
What You'll Learn in The Social Media Governance Plan E-book

The e-book has 25 pages outlining the process to create your first (or update your last) governance plan. It's filled with ideas and examples to help you brainstorm the best risk management practices for your company, including:

The top corporate risk factors that keep CEOs awake at night, and why social media is an inroad to trigger these risks.
The 12 steps it takes to create a solid Social Media Governance Plan for your company.
The key corporate stakeholders that must be part of your governance team.
The social media audit process for the corporate accounts, and the accounts of employees and key partners.
The monitoring procedures to stay on top of your governance.
And more..
Social media risk management is all about making the plan and working the plan!
We hope this e-book helps you to create a successful Social Media Governance Plan!