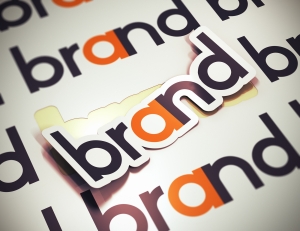 Every few years technology evolves and something wondrous emerges that affects businesses and consumers in a significant way. Often, the new technology replaces an existing technology, or even makes it obsolete. In some cases, it has a major impact on how an enterprise shifts its IT focus to better serve its customers and shareholders. We've come to know these impactful technologies as "disruptive." The most significant "disruptive technology" of the past ten years has been social media; not just for the platforms themselves, but because it takes a significant shift in business culture and operational excellence to incorporate it effectively. In fact, it takes a transformation.
The term "disruptive technology" was generated from "disruptive innovation" coined by Harvard Business School professor Clayton M. Christensen in his 1997 best selling book The Innovator's Dilemma. He segmented new technologies into two distinct camps: disruptive or sustaining. We all know that social media has been around for awhile, but the disruption in business has really become prevalent the past year.
In 2013 and the first quarter of 2014, social media was the spear-head technology for many conversations in the Board room, within the C-suite, and among analysts. This is because brand reputation and intellectual property are at high risk with social media, making brand protection critical. Deloitte's most recent research Exploring Strategic Risk puts brand reputation as the highest concern of over three hundred global executives. AON presents similar findings in their 2013 Global Risk Management Survey. This isn't just among marketing and sales risk — this includes all risk scenarios including major economic downturn and natural disasters.
The web is a place where a message is amplified quickly and often the origin of the problem is not with the social media or brand team. Brand and reputation risk includes counterfeiters and phishers representing themselves as you, rogue employees or advocates thinking they are representing your brand well (when they are not), and general misuse of your IP by unauthorized people. To help mitigate these risks, an enterprise needs a comprehensive brand and IP protection strategy which includes social media!
Brand Protection is an older technology space which has existed for years. The companies in the space include Mark Monitor and CSC Global, as well as several other smaller organizations. They began by helping brands manage their domains and protect their websites, then added monitoring services to watch for a brand misuse across the web, and more recently, help monitor key social sites. The brand protection space has always been about looking for the bad guys like the counterfeiters and the phishers. These companies not only watch for bad guys but they also provide account management and legal services to help a brand act on the findings. Being a mature market, the technology has been around for a while and it usually comes with a significant level of hands-on service. This means the fees for these services can be significant, running in the tens of thousands – if not hundreds of thousands or even millions – of dollars per year.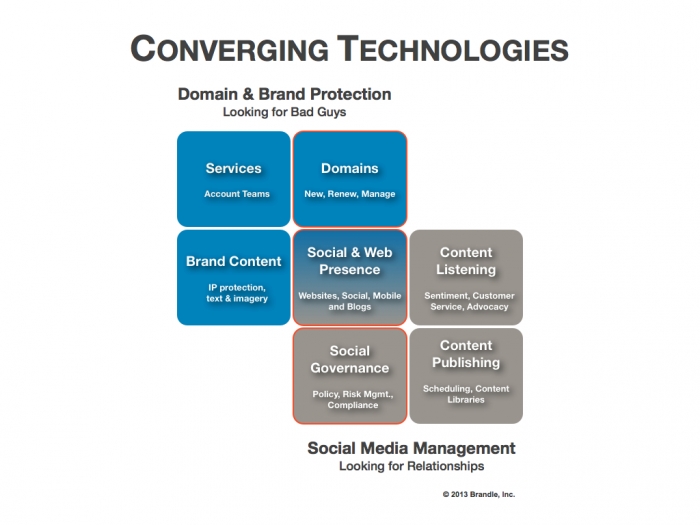 Social media is also the place where we know message amplification can take a highly positive turn (think advocates and fans) and it is the golden ticket every C-suite hopes to find. Social media is also transforming operations (think sales staff and customer service employees tweeting with customers) as companies strive to deliver the best experience in our even more customer-centric world.
To date, the social media tools available to businesses have generally been centered on managing the content stream. These tools are heavily focused on publishing and listening (think Salesforce Marketing Cloud). They also help a brand relate to people, amplify the positive, and manage a crisis should one arise. In essence, these tools help a brand look for love. But these technologies focus on content and not the necessarily the presence (the attributes which identify and related the "point of presence" to your brand or enterprise).
Most companies are left not knowing where all the POPs (points of presence) associated with their enterprise are unless they conduct an audit of the web. This a single audit can be an expensive endeavor and it must be repeated at regular intervals because anyone, anywhere can create a new point of presence on social media in a matter of minutes. To make matters worse, the state of the art for tracking this inventory of social presence is the lowly spreadsheet - a relative static technology invented in the 1980's. It's pretty clear, the tools currently available to the enterprise are incomplete.
Which brings us back to social media being a disruptive technology. With the advancement of technology, and the shift in business practices and tools, we are now seeing a convergence of the Brand Protection and Social Media Management technology spaces. And where there is a convergence, new opportunities arise.
The Emergence of Brand Presence Management
Until now, the management of an enterprise's inventory of web and social presence has been cobbled together from a combination of tools and manual processes and procedures coordinated using email and documents shared via Dropbox or SharePoint. That may seem sufficient until you realize that manual audits captured in spreadsheets are seldom comprehensive, prone to error, quickly out of date and incapable of detecting change. Couple that with manual reporting and tracking and you've got a safety net with a lot of holes in it. And if you're in a regulated industry, you've just left a lot of gaps in your compliance and risk mitigation practices.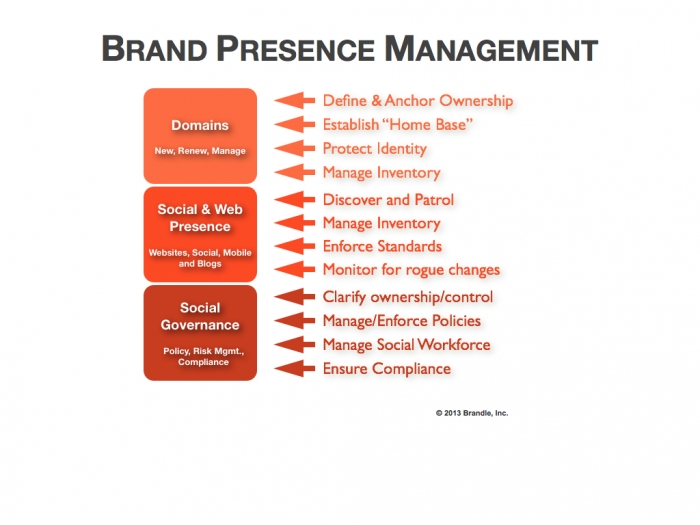 When we started Brandle two years ago, this is the vision we had. We knew the infrastructure was missing and someone needed to give the enterprise a foundation upon which to manage its presence on the web. We didn't see a solution coming from the social tools space and we thought the brand protection companies were using older technologies and focused more on after-the-fact remediation and not ground-up infrastructure. So we created Brandle – a Brand Presence Management solution that makes it easy to discover, inventory, monitor and patrol your digital presence. It also provides governance features including managing corporate policies, enforcing brand standards, and facilitating regulatory compliance.
We built Brandle to be the foundation upon which an enterprise manages its digital presence. Once this foundation is in place the brand protection and social media content companies can layer their services on top, providing a more comprehensive, integrated and overall economical experience.
Chip Roberson, CEO, contributed to this article.