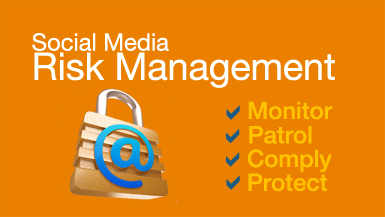 If you have been following my Social Media Governance series, you know that I have introduced new terms and laid out several processes to help you strengthen your Social Media Governance plan. The last post was all about conducting an effective audit and creating a solid inventory. In this post, Part 3 of the series, I will highlight how you maintain brand equity and reduce corporate risk as a social enterprise. It's all about monitoring what you know, looking for what you don't know, and implementing the governance needed at any given time.
The sad thing about conducting a manual audit is that as soon as you are done, you are out of date! Social Media Governance is not something you do once a year. It is a discipline that needs to adapt and react as quickly as social media moves. Although you can't protect against every risk, diligence and conducting best efforts (and I mean BEST efforts) gets you covered the majority of the time. In fact, in regulated industries that require quite a lot of governance, demonstrating best efforts for managing social media and complying with regulations is defensible. However, if you think an annual audit plan is best efforts, think again. An annual audit would not pass muster with most regulatory bodies and the corporation (and individual) may be fined. This is why we created Brandle, to automatically audit and help you manage social media points of presence (POPs) continually. But you can do this manually as well.
I've presented many concepts in Social Media Governance Part 1 and Part 2, but the most important concept is that there are two main aspects of governance: social content governance and social presence governance. I am focusing on social presence governance.
I also spent time in Part 1 highlighting the recent research by Deloitte and AON which has raised risk to corporate reputation as the main C-level global concern. Since that post, new data has been presented by PwC in the report Fit For the Future: Capitalising on Global Trends, completed December 2013. CEOs surveyed stated that the number one trend that will transform business in the next 5 years is technological advances (such as the digital economy, social media, mobile computing and big data). So the trend of the C-suite seeing social media as a transformation and risk is going to be a topic for some time to come.
So how do you help mitigate and manage corporate risk?
Now that your major audit is complete, it's time to develop your ongoing maintenance program. This includes monitoring what you know and looking for what you don't know. It also involves incorporating new findings into your procedures to alter plans, policies and training programs. Below is a list of actions to help manage corporate risk.
1. Monitor the profiles in your known inventory to comply with the following items.
Corporate social media policies.
Accurate legal language.
State and country laws.
Social channel terms of use.
Regulatory body social media guidelines (FFIEC, FDA, FINRA, TTB, etc.).
Third-party contracts (such as use of logos and other IP by partners and agents).
You may find it helpful to create and follow a compliance profile for corporate POPs and each type of third-party POP you track.
2. Protect your company by patrolling the Web for what you don't know. You are looking for:
Corporate POPs that may have been created without your knowledge.
New Employee POPs referencing your brand.
Third-party POPs using your brand names, IP, or other identities, but are not considered malicious.
Third-party POPs using your brand names, IP, or other identities, but are considered malicious (such as counterfeiters, phishers, haters, etc.).
Send infringing and counterfeit POPs to legal counsel.
Clarifying ownership of corporate social properties (especially when lines blur between an employee's blog and the company's blog) is also a critical part of governance. This should be in your social media policy and preferably be signed by your employees. Ensure that all social channel credentials have a company email address as contact. This helps protect your company from a number of risks that can arise.
How do you help strengthen your Brand Equity?
If your involvement with your company's social media is all about branding and relationship building, then you know the importance of brand consistency. Brand consistency (in appearance and customer experience) is what strengthens your brand equity. The audit process probably uncovered several social POPs that needed to be updated or shut down — that's a good start. Now you need to implement a maintenance program to ensure ongoing global brand consistency. You will see the close link between brand equity and corporate risk management below. As I stated in the last post, risk to corporate reputation (which is all about brand), is the number one global risk in the C-suite today.
To preserve brand equity, you need to ensure consistency on the corporate-owned POPs and make best efforts to encourage those associated with your brand (employees, partners, ambassadors, etc.) represent the brand correctly. Here are the key items to help you strengthen your brand.
1. Monitor the POPs in your inventory for:
Assurance that the POP is alive. At Brandle we call this the POP Pulse – the heartbeat.
Audience growth and engagement.
Content posting freshness to be an active brand (based on your strategy).
Changes to profile data implemented by team members.
Third-party use of logos and other IP (to ensure contract adherence and correct IP use).
2. Monitor the profiles in your known inventory to comply with:
Brand standards and brand frameworks across brand, campaigns, identities, company, and social channel.
Regulatory body social media guidelines (FFIEC, FDA, FINRA, TTB, etc.). This is not only a legal risk, but can become part of brand standards in regulated industries.
3. Protect your brand by patrolling the Web for what you don't know.
Look for anyone using your brand maliciously or incorrectly (if authorized). Brand and IP protection is critical for brand equity! Work closely with your legal counsel to protect your brand and your company.
Social Media Governance Plan
I hope this series has helped you refine your Social Media Governance Plan. A plan not only helps you get a handle on your brand and manage risks, but it also sets the structure to see an accurate representation of your social footprint. An accurate footprint will ensure you are gathering the necessary and pertinent information for big data analysis. After all, you can't measure what you don't know!
The three keys to the plan are to:
AUDIT

by discovering POPs, conducting a triage process, and creating a workable active inventory.

MONITOR

the POPs you've placed in inventory for a pulse, brand standards, and regulatory and policy compliance.

PROTECT

by clarifying ownership of POPs in your inventory, and patrolling the web for brand and IP infringements .
Then put what you learn into action! Schedule what you've learned into your existing update processes for your corporate social policy, training programs, and workflows.
Finally, make sure that all stakeholders and the C-suite learn what you have accomplished. Demonstrate how you are getting a handle on the corporate brands and helping mitigate corporate risks associated with social media. With this work completed, you'll be ready to scale the use of social media in your enterprise. It's a big job, with real rewards!