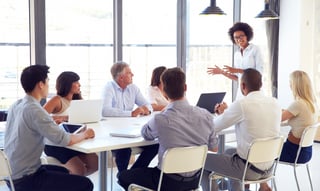 Social media governance has become a new focus for the social enterprise. This governance practice is all about managing risks to the corporation (that might arise from social media) and maintaining brand standards and reputation across the social networks. Building the right social media governance team is critical to being successful.
Governance over social media is a difficult task. It is generally very detailed work that is ever-changing due to the ever-changing nature of the social networks and the fluidity of engagement. Strong governance needs to be applied cross-company, and spearheading training and process with multiple department heads can be challenging. To be successful at this governance practice, we recommend a two-tiered team approach : the core social media governance team and the extended team.
This post helps you define the team roles and gives you a start on determining your process for cross-company governance communication.
Core Social Media Governance Team – Centralized or Localized?
Depending on the size of your enterprise, the social media marketing team (that is responsible for the daily oversight of social media management) might be distributed across the company and across the globe. This works great for a company to be able to address local needs in local languages. However, the main job of governance is to mitigate corporate risks and risk controls tend to be more successful when one standard set of rules is implemented corporate-wide.
Based on the successes of our customers, we believe that social media governance should be centralized at corporate HQ and that the controls created by a core team should be implemented globally. We also believe that localized management of a social account (or brand) is a stronger solution to ensure regional success. This is true for companies that have brands distributed in different countries or companies that have multiple retail outlets in one country.
So centralized governance and localized social marketing and management is the best-in-class structure for an enterprise. But who should be on the core social media governance team?
The Core Social Media Governance Team
This team takes on a significant workload, especially given it is generally a small team of 1-4 people (depending on the size of your company and brand portfolio). Here are the core team roles that may work in a larger organization (or combine disciplines for a smaller team).
Social Media Governance Manager - Central. The key role and leader of this team (and of the charge) is the Social Media Governance Manager. This person is responsible for creating the governance strategy, ensuring the ongoing process of the governance plan, driving adoption of governance cross-company (with help from department and C-level champions), and delivering reports of governance successes and improvements throughout the year. They are also involved with any updates to social media policies. The annual (or ongoing) social media audit protocol is also designed and implemented by this manager. This person also manages other core team members and is the person to whom other departments deliver/request information about social media governance.
Social Media Network Specialist - Central. Because social networks are always changing, someone needs to be dedicated to staying on top of these changes and determining how they may put a company at risk, or how the change may alter governance. A good example of this is when Facebook began to auto-create Place Pages...this can greatly affect a brand (when consumers are posting to them) and there needs to be governance strategy to manage them (or merge them). This person may also own the daily relationship with the Network accounts manager and be the liaison with the corporate legal department to shut-down social accounts.
Social Media Tools Specialist - Central. This role is knowledgeable about the company's suite of social media management tools and may be the lead in using the governance tools and training global team members on technology. This person also looks for items of concern in these tools (such as password changes to an account or a creation of a new social account that did not go through the vetting process), KPIs using these tools, and delivers team reports from these tools. This person also owns the relationship with the tools vendors (for tools that are deemed corporate-wide tools).
Brand Marketing/PR Representative - Local to Region or Brand. These team members intimately understand the brand standards and the voice of the brand(s), they own content distribution and have the keys to the local social accounts. If you have a very large brand portfolio, you have many people representing this area of responsibility across the globe. These people are the first-line implementers of the social media governance procedures, controls, and local reporting. They not only hold the keys to the accounts, they are driving the governance strategy locally and for each brand.
If you'd like to have some insights on how 3M organizes their social media governance, take a look at this presentation delivered by their core team leader, Amber Campeau. 3M:Centralization Across the Enterprise.
Roles of the Extended Social Media Governance Team
Social media now touches just about every department of your corporation, and it's important to include a stakeholder from each of these departments on your governance team. If your company is "social" only at the brand level, then you may not need a representative from every department listed here, but it's worth considering. It is often a single risk event that turns the tide and adds social to a new discipline, so adding them to the extended team may be a preemptive strike against a social media risk event.
When a risk event does occur, each representative on this team should be responsible for implementing the planned procedures in their department, as well as contributing new ideas to strengthen governance in their area as new information or opportunities arise. Here are the stakeholders to consider for your extended social media governance team:
C-Suite Champion. This role is essential to gaining corporate-wide adoption of social media governance.
Department/Budget Champion. This person is ultimately responsible for the success or failure of the social media governance process and generally owns the budget. This person also communicates to the C-level about governance and the successes and failures of the program as well as supports the social media governance manager.
Social Media Governance Manager. (Core Team)
Brand Marketing/PR Representative. (Core Team)
IT Representative.
Risk Representative.
Sales Representative.
Customer Support Representative.
Legal Representative.
If you would like to see more detail about these roles and how they play into the social media governance plan, you may want to read our Social Media Governance Plan E-book.
Reporting & Meetings for the Social Media Governance Team
After you have designated the team players, you need to define the process to keep each other informed. Successful governance is all about working a process over time...and updating the process when new information is presented. Here are some ideas and questions to answer so you can keep the governance process moving forward.
How often will the core social media governance team meet to review company risks and the team's performance managing those risks for their departments? How often will the extended team meet?

What reports and format are needed in each team member's department and for the C-level Champion? What is the delivery time of each report? How are the reports maintained as part of the governance process in case of an audit (especially if you are in a regulated industry)? These can be both brand reports (showing how governance has improved the brand presentation to the global consumer) or risk reports (showing how governance averted risks or how your internal process managed risk events successfully).

What is the extended team's alert system in the event of a risk occurrence? Once the risk event has been handled, what is the report that gets distributed to the extended team demonstrating the success or failure of the governance process and recommending any changes to the process.
We know that you are well on your way to creating a strong governance team for your enterprise. If you'd like to discuss ideas about implementing or improving your governance plans, or need the tools to automate much of your work, please contact us at Brandle or request a demo.