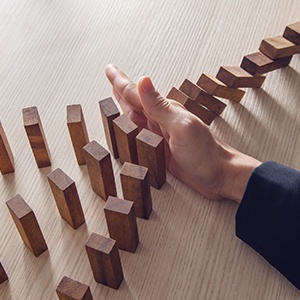 Corporations spend millions of dollars a year to increase their visibility and mindshare on social media. However, there are times when companies stand out on social media for all of the wrong reasons. Some notorious examples spring to mind:
The numerous United Airlines issues highlighting

poor customer service

.

Nivea figuring that it would be a good idea to launch a campaign around the tagline "

white is purity

."

Pepsi's recent

Kendall Jenner ad

where she brings a can of pepsi to a police officer at a protest, undermining Black Lives Matter protests across the U.S.
Indeed, we could fill pages and pages with examples of social media-related PR fails. While this would be educational (and entertaining in a jaw-dropping "what were they thinking!?" kind of way), there is a bigger and more important point to make that all organizations need to grasp. Social media risk management can't just be about handling a PR crisis — because if that's the case, then it's always a matter of reactive damage control, and never a matter of proactive brand protection. The former is costly and stressful. The latter is strategic and managed.
Essentially, social media risk management is an ongoing, properly-resourced and executive-supported program that focuses on identifying, anticipating and managing risks that might damage the brand. Some of these risks are localized and specific to an organization, such as:
The existence of false social media accounts that infringe on copyrights and intellectual property.

A cyber attack that results in a reputation downgrade.

Compliance and/or regulatory issues regarding both corporately-owned social media accounts, and employee-owned accounts.
However, there are other risks that are external to the organization that need to be identified as well, such as:
Economic downturns and recessions.

Natural disasters and accidents (this is especially important for firms in the insurance and financial space).

The emergence of disruptive technology.
Ultimately, social media risk management must be integrated into an overall governance plan that is comprehensive, regularly reviewed, continuously updated, supported by trained employees, and led by authorized managers. Anything less, and team members will lag in their response to a crisis, which will escalate and create serious brand damage. Without a social media governance plan, businesses may find that they stand out on social media — but for all of the wrong reasons.
Learn More
If you're looking for a tool to help with social media risk management, look no further than the Brandle Presence Manager. The Brandle Presence Manager is a social media security SaaS solution that empowers your business to discover, inventory, monitor and report on your web and social media presence.
Plus, the more you work with Brandle, the stronger the algorithm becomes — which ensures stronger social media governance, brand protection and social media security on the brands and identities that you care about most. To learn more, schedule your guided demo.