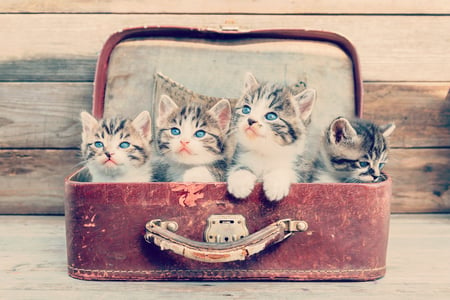 One of the more difficult challenges for the corporate team responsible for social media governance is the task of monitoring the web presence activities of the sales team. The challenge is even greater when you have a distributed and large sales force. And if you are in a regulated industry (such as mortgage, finance, insurance, or pharma), the job is critical to the regulatory compliance of the company!
I recently got a call from one of our mortgage customers asking if I could recommend best practices to manage a distributed sales team so the company could demonstrate corporate-wide social media compliance. He commented that he felt like he was "herding cats". I was happy to guide him through the process I recommend and I thought others might benefit as well. Additionally, I get to use a photo of really cute kittens in a blog post (attentively gathered for training and monitoring).
In this article, I outline a sound process to help you manage web presence compliance for a social sales staff. Although I do highlight procedures for companies in regulated industries, these steps can be followed by any company so that you can get the most out of your social sales team while managing risks for your company.
As usual in business (and herding), it comes down to the adage, "Make the Plan....Work the Plan". Successful social media compliance is all about implementing best practices for governance, leveraging corporate brand marketing, and training your sales team how to "be social".
---
Secure Social Media Compliance with Your Sales Team
When people tell me they are having trouble managing the process of social media compliance with their sales team, I always ask, "what is your social media governance program and how do you train your sales team"? The most common answer is that they don't feel very confident about the current state of their governance or training programs. Everyone's work life is filled with priorities and staying on top of web governance and continual training is a job unto itself. Compounding the problem, is that the sales department tends to be the department that ebbs and flows the most with incoming and exiting staff.
Successful (and compliant) sales people need to understand the company's brand standards, corporate policy, and compliance requirements — ensuring this happens requires a deliberate and ongoing process. If you give this process a try I believe you will achieve success. The key steps are:
Create Your Social Media Governance Program

Design Your Social Media Sales Strategy and Brand/Compliance Standards
Create an Employee Incoming/Outgoing Process
Conduct a Web Presence and Social Media Audit
Train your Sales Staff. Monitor Your Sales Staff
Review and Repeat. Review and Repeat.
1. Create Your Web Presence and Social Media Governance Program
If you have been a reader of our blog, you are well-versed in what Social Media Governance is all about. The fundementals to creating a program are:
Build a governing team made of different stakeholders across the company. It's a team effort to achieve web and social media compliance.Team members should include Sales, Marketing/PR, Legal, Risk, and Customer Support.
Create a governance program outlining key corporate objectives of social media and other web presence (such as blog posts, microsites, and if employees can have individual websites).
Create a Social Media Policy. This should include whether your sales team will be using their own personal web and social media sites for business (and the compay requirements if they do). It can also be part of the policy that your sales staff will only be able to use company-created accounts, and when they leave the company, the account will be terminated (or transitioned to the new employee taking the role).
Create a review process of the program, timeline, and escalation procedures should a crisis occur.
Select the tools that will help you with your Governance Program.
For some good information and tips, you may want to visit these previous Brandle blog posts.
2. Design Your Social Media Sales Strategy and Brand/Compliance Standards
I'm sure that your marketing department has already created brand and compliance standards for the corporate web presence which address social media accounts. Creating the guidelines for your social sales team is just an extension of those standards! The approach you can take for designing your social sales program is:
Determine the corporate objective for a social media empowered sales team. If you need a little inspiration, take a look at this new ThinkAdvisor post Advisors Lure Million-Dollar Clients on Social Media or the new Putnam Research.
Know the regulatory compliance requirements for your business. If you are in the Mortgage Industry, you may want to download our Compliance Checklist for Mortgage.
Create the brand standards and example templates to help your sales staff. First, determine which social media sites you would like to encourage the sales team to utilize. You may also want to discourage use of certain networks in order to focus the team on priority networks. For most businesses, you will want to include Facebook, LinkedIn, Twitter, YouTube and Google+. If your business and products benefit from imagery, you may want to add Pinterest, Instagram and Vine. Finally, you will want to consider industry-specific networks (for example the real estate business may want to include Zillow, Lender 411, etc.). The more straightforward and simple you can make this document, the better. Try creating mock-ups of what each account should look like and include specific details and language (expecially for regulated businesses) for your sales people to emulate.
Create content guidelines. While web presence is certainly the first order of business for compliance, content is the ongoing communication with the customer. You need to create content guidelines for what can (and can not) be said in the content stream. Creating a content library of approved articles, comments, statements, and images is always a good practice!
Create a dissemination process for this document and include the process in the Social Media Governance Program.
3. Create an Employee Incoming/Outgoing Process
As I stated earlier, the sales department in many industries is the department that has the greatest turnover. This is just inherent in the job. You need to have a written process of how the key point-person managing the compliance for the sales people will be informed of exiting and incoming sales staff. The needed schedule for this depends on the size of the company sales staff and if the business is regulated.
For regulated companies, I recommend a weekly process between HR, Sales and the Social Media Compliance specialist. For example, their should be written confirmation between HR and Sales of who has left the company and who is coming into the company. The Social Media Compliance specialist will then know who needs to be trained on the governance program and brand standards and which POPs to monitor for exiting employees (to removie any brand or corporate reference on their web and social media sites).
4. Conduct a Web Presence and Social Media Audit
We've spent a lot of time discussing Social Media Audits here at Brandle (we built Brandle to make it easy for you to audit, inventory and monitor any POP associating with your brand). If you are new to reading our blog, I suggest you take a look at our post How to Conduct an Effective Social Media Audit! Social Media Governance: Part 2.
It is also important that you audit web presence other than traditional websites and social media for your sales staff. If you are in a regulated business, it's a good idea to collect everything (such as blog posts, websites, microsites, and industry site pages). The regulatory bodies aren't concerned JUST with social media, but with any consumer communication that your sales people are presenting. A presence manager like Brandle allows you to inventory and track any property that is associated with your business. This can be considered in your Social Media Governance Program and tool selection.
As part of the audit process, make it easy for your sales staff to submit all of their web and social media sites to you. This will really help to connect your web properties to the people who created or manage them, especially if it's not obvious from the branding on the site. Also, getting accurate additional information will help you organize and track the data (such as the state in which the sales person is licensed, so you can pull accurate audit reports).
After you conduct a thorough audit, you will want to collect this information from new/incoming employees so they are added to your process as quickly as possible.
5. Train Your Sales Staff. Monitor Your Sales Staff.
Create an initial training program for the entire sales team. Include all corporate stakeholders (such as management, HR, compliance) to ensure everyone understands the objectives and sees the benefit of a comprehensive program. After the initial training, create a training program for new employees, and an ongoing training program for new ideas, best practices from the sales team, and policy refreshers.
To make it easy for the sales staff to learn, you may want to consider creating a video library of short single-topic videos. This way they can review the videos at any time and fit it easily into their schedule. If you create a video on compliance requirements or corporate policies, you may want to make these videos mandatory viewing and require that they read the full governance and policy documents. Webinars also work very well for training a distributed sales staff, and offer the opportunity to ask questions. Finally, training sessions at the annual sales meeting can be very effective and make the point that "social selling" is an important branding and sales opportunity for the company.
The initial audit process should ensure that every social media account is compliant with your brand standards, policies, and regulatory requirements. Then it's just a matter of monitoring the sites to ensure they stay compliant. Create a monitoring process for conducting spot checks on compliance and to review content direction (especially if your sales staff creates their own content).
6. Review and Repeat
Every 6 months or as often as your company, industry, and Social Media Governance Program require, review how the program is going. Make updates where needed, and keep the process cycling through the steps to train, audit, and monitor your sales staff's web and social media presence!
CONCLUSION:
Like most things in business, the best path to success is to "make the plan and work the plan". Working with your sales staff to achieve web and social media compliance is no different. It definitely has its challenges, but the upside of having a fully empowered sales team blogging and posting social content about your company's products and services is all worth it!
---