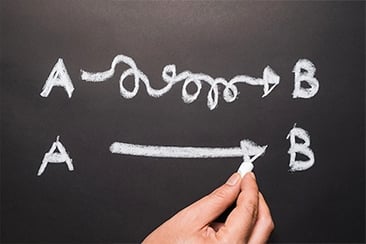 Before we lay out steps to simplify social media compliance, let's first define it! If you are part of a risk management team in a regulated industry, such as the financial sector, the term "social media compliance" centers around regulatory requirements. But that is only one aspect of compliance. There are other aspects of compliance for both regulated and non-regulated companies.
Social media compliance is a discipline within a broader social media governance program. It is the practice of ensuring that all corporate policies, regulatory requirements, brand standards, and social media standards are implemented and adhered to on all social accounts across all networks. This practice is broader than just regulatory compliance. Sure, regulatory compliance is critical, but brand damage often occurs when other corporate compliance standards are not met. And a regulatory audit might produce a warning for compliance correction (or fine), where brand damage can cost you customers and sales.
Executives must understand that in today's business landscape, strong social media compliance is not just a best practice, it is an essential part of corporate risk management.
Many large organizations, especially global organizations, face both strategic and logistical challenges managing their social media compliance program. The most significant challenge is the proliferation of social networks and the ease of creating social accounts, whether the creator is an employee or a bad actor. As a result, companies do not know what their actual branded digital footprint is (authorized or unauthorized). Unknown and unauthorized accounts are certainly out of compliance, but there are still significant compliance challenges on the legitimate corporate accounts. And if employees are monitored as a regulatory requirement or approved brand ambassador program, there are often compliance issues that put the company and brand reputation at risk. Finally, there are the third party accounts (such as communities, partners, or sponsorship organizations) that use your brand affiliation but have limited knowledge of your compliance concerns.
The only way to address these issues is to have an ongoing social media governance practice that includes compliance requirements. Despite the increasingly complex risks and threats that large organizations face, the best response is to implement a focused governance and compliance plan. Here are the key building blocks for success:
Centralize Governance at HQ: Large organizations should centralize social media compliance at their corporate headquarters. compliance includes regulatory guidelines, policies and procedures, social media brand and activity standards, and campaigns that incorporate compliance. The distribution of content and account management should be delegated to local management. This significantly clarifies lines of communication, creates accountability, and ensures that while local offices and branches have the flexibility they need to engage their marketplace, there is a fundamental commitment to standardized compliance and governance that underlies all activities and products (e.g. posts, tweets, content, interaction with customers, etc.). For global companies, marketing would be localized as well, but a governance team member would ensure compliance standards are met.
Establish Governance Board and Team Roles

: In large organizations, one of the main causes of compliance challenges is that marketing is largely or wholly tasked with managing day-to-day activities. This is neither sustainable nor safe. In fact, the best way to increase program effectiveness, by establishing multiple roles that serve on a governance standards board, such as: C-Suite Champion, Budget/Department Champion, Social Media Governance Manager, Brand Marketing/PR Representative (country reps if needed), IT Representative, Risk Representative, Sales Representative, Customer Support Representative, and Legal Representative.
Create a Social Media Compliance Plan and Work the Plan: The Governance Manager should be the lead to create the standardized compliance plan, policy processing, social account approval process, crisis protocol, brand standards review, digital footprint inventory, and monitoring program for compliance adherence. The Board supports the approval and monitoring process of the plan and commits to share in their piece of the review cycle for successes, lapses, updates, and risk evaluations.
Leverage Technology

: Even for small businesses, the process of manually capturing, monitoring and ensuring compliance on all social media Points-of-Presence (POPs) is extremely time consuming, plus it can be rife with errors and inconsistencies. These problems are magnified in large organizations, where the need to actively track thousands of POPs is typical. Using technology such as the Brandle Presence Manager dramatically simplifies the process, while it increases accuracy and data hygiene

— which over time ensures better social media governance, brand protection and social media security. Although auditing the web and monitoring accounts can be done manually, it is seldom accurate and is out of date the next moment a new account is created. Technology solves this problem.
Learn More
The importance of strong, multi-layered social media and web compliance cannot be underestimated, since the damage inflicted by disgruntled ex-customers, cyber criminals, counterfeiter and other bad actors can be massive and lasting. Using the above advice will help you ensure that your large organization is more protected to these worsening risks and threats.
If you're looking for more information on how to ensure social media compliance in a large organization, download our eBook "The Social Media Governance Plan". This eBook details the twelve critical steps every social enterprise needs to consider when managing a distributed brand presence.