Brandle Data Sheets, White Papers & E-books
These Brandle documents give you a deeper look at how the Brandle Presence Manager can help you with your corporate social media governance and web presence management challenges.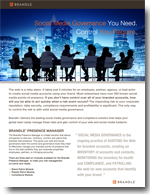 This data sheet highlights the features and benefits that the Brandle Presence Manager provides for every enterprise concerned with controlling a distributed web presence and managing the risks associated with social media. Learn how Brandle helps you Discover, Inventory, Monitor and Patrol your web and social presence. Download now!
We hope our e-book white papers give you additional insight and information that supports your brand presence and social media governance strategy.

This E-book by Brandle® guides you through the process of how to create a comprehensive and corporate-wide Social Media Governance Plan for a Social Enterprise. There are twelve key steps included in this book and plenty of examples to help you set your business goals for governance and help you manage the risks inherent in a social enteprise.

This white paper details how a global enterprise struggled with multiple social media and web audits and how they were able to achieve their goals with the Brandle Presence Manager. Download now!




This white paper details the seven critical steps every social enterprise needs to consider when managing a large and distributed brand presence. Download now!




Read our Mortgage Industry Social Footprint report of the Scotsman Guide Top 25 companies and see how companies that lead in revenue also lead in social media use. Download now!